Folding Camping Chair, Outdoor Portable Beach Chair Heightened Design

Free Shipping within US
24/7 Customer Service

Quality Guaranteed

30-Day Return Guarantee
Folding Camping Chair, Outdoor Portable Beach Chair Heightened Design
Description:
This fashionable and functional beach chair will be the best companion for your travel. A much higher size will bring you extra comfort. Detachable armrests can fit your different preferences. Premium PVC-coated Oxford cloth is of high strength durable, and easy to clean. Its lightweight and foldable design makes it a portable chair for you to carry anywhere. With storage pockets and cup holders, you can easily keep your essentials and beverages at hand. Solid frames and anti-skip feet can well ensure stability and safety while withstanding a great load. You may use this versatile chair both at home and outdoors as you like. If you are looking for a beach chair, just add this one to your cart!
Features:

Comes with Detachable Armrests: Armrests are provided, with which you can lay your arms on, and recline on the chair's back. To fit your preferred posture, you may detach the armrest by pulling up it from the connection with the chair leg. When you need to use them, just put them down to make the tubes cover the steel frames.
Heightened Chair Brings Extra Comforts: This beach chair is much higher than a normal beach chair with an overall height of about 38'', a higher seat lifts your body's center of gravity, thus you will get a more comfortable seating experience.
Convenient Use without Assembly: Pouches are provided at the right armrest, convenient for you to keep your books, cup, or other essentials at hand. You needn't worry about the difficulty of assembly, since there's no requirement. Just a quick unfold in a few seconds, the chair is then ready for you to use.
Chair Legs Fit for Different Terrains: X shape frames ensure the stability of the chair, and the feet have anti-skid pads, which provide safe and stable support, thus the chair can well adapt to different terrains, from beaches to grasslands, from wetlands to muddy grounds, no matter in beach outing, camping, fishing or picnic, it will hold you firmly.
Portable and Foldable Design: The whole beach chair weighs only 9.5 lbs, plus the foldable design, is thus very easy to carry, after packing it into the carrying bag that comes along with the package, you can take it along and travel anywhere.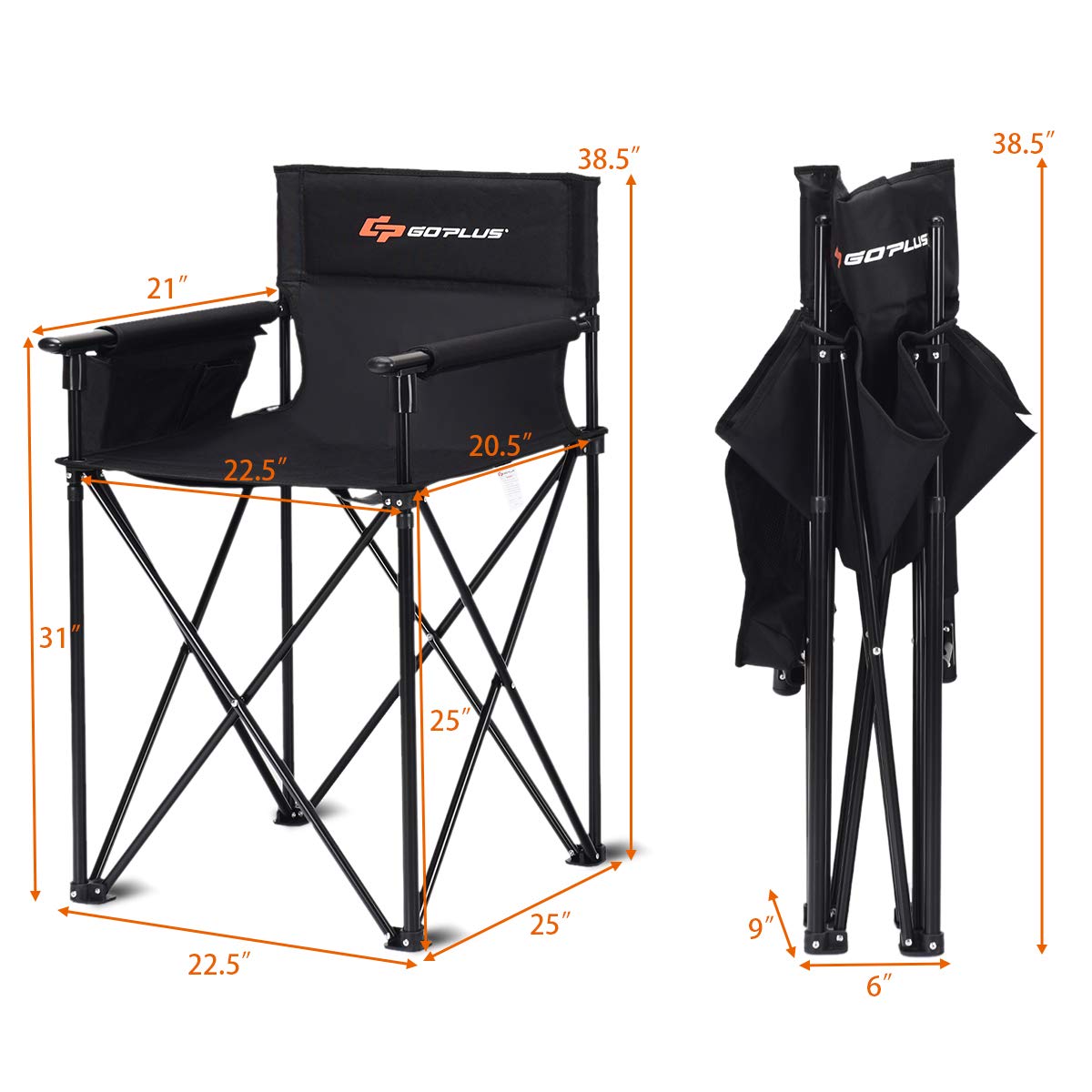 Specifications:
Material: Oxford Cloth, Iron
Color: Black
Net Weight: 11 lbs
Weight Capacity: 250lbs
Dimension: 22.5'' x 2.5'' x 4''/38'' (L x W x H)
Package includes:
1 * Beach Chair
1 * Carrying Bag
Shipping Costs & Tax
1. Free Standard Shipping on all items.

2.In accordance with state and local law, your online purchases is subject to state and local sales taxes in effect where delivery is made. If you live in a state that does not impose a sales tax, you may still see tax calculated on your order if shipped to another state. To the extent any of the factors affecting the calculation of sales tax change between the time you place an order and the time your credit card is charged, the amount appearing on your order as Tax may differ from the sales taxes ultimately charged. Your invoice will reflect the final total tax, which includes state and local taxes.

If you are a tax-exempt organization or reseller, you can apply here for tax exemption on your Goplus.com orders. Afer you finish, please send the completed form to support@goplus.com for review.

Shipping Locations
1. Shipping is only valid for shipping addresses in the United States excluding Alaska, Hawaii, Puerto Rico, and Guam.

2. We do not deliver to FPO, APO, and PO Box addresses.

Shipping Methods
All orders are shipped out via UPS or USPS or FedEx or Pioneer.



Shipping and Delivery Estimates
We ship in-stock orders as soon as possible. This is often the day you placed it or the day after, but there are situations where it may take longer. If your item is in stock, your order is estimated to ship on the next business day. All estimates are based on business days.

If you choose to pay by credit card, your order will be billed within 24 hours. The items will usually be shipped out next business day after we received payment. If you have ordered multiple items with different delivery destinations, you may receive separate order shipments. Delivery will typically take 3 to 5 days, depending on your destination and the shipping carrier. In the event of any shipment not being fulfilled or shipped out after label creation, shipments exceeding 8 business days have the option to choose order cancellations or partial refunds. Please see return policy for more details.

When encountering with force majeure, the processing of orders will be delayed. Nevertheless, it is ensured that your order will be processed in a fast manner when weather permits.

Goplus takes every reasonable precaution to ensure that the products are not damaged during shipping. However, damage to products can occur during travel from the Goplus shipping facility to homes or businesses. If the item is damaged in transit, please choose the corresponding item in "My Orders" to apply for a refund or a return within 3 business days after receiving your package. Note any visible damages (scrapes, dents, etc.) or operationally damaged (the system will not work), take the digital photographs and provide Goplus with proof of the damage in detail as this will assist us in processing your order refund.

Orders Tracking
You will be sent at least 2 emails for each order you place:

Once you've placed an order, you will receive an Order Acknowledgement email to confirm your order details. Once your item ships, you will receive a Shipment Confirmation email including your order number, the carrier's information, the date and time the order was placed, the status of the order, and package tracking numbers for items that have shipped. For exact locations of your shipment, please track your items on the carrier's official website.

You can visit our online Order Status 24 hours a day, 7 days a week, to view the most up-to-date status of your order. Sign in with your Goplus account and password to get a summary of past orders by visiting our Track Your Order' Page for detailed steps of order tracking.

Note
1. Please verify you have the correct shipping address on your order PRIOR to making payment as this is the address we will ship to.

2. We are not responsible for any return shipping cost if product didn't meet your expectation nor placed a wrong order after order has been shipped out.

3.Items that weighs less than 150lbs will be dispatched by UPS. While, items that are weigh more than 150lbs will be delivered by truck.
1.How do I contact Goplus regarding my order?
Whatever happens to your order, you can contact us via support@goplus.com. It is important to provide us with your email and telephone number, order number or tracking number so we can check the status of your order.

2.When will my order be shipped out?
Once we receive your order, we will process it in the same day and send out on the second day from Monday to Friday. Any orders placed on Saturday's will be sent out together with Sunday's orders.

3.What shipping methods do you offer?
We use UPS ground, UPS surepost, USPS and freight transportation by truck to ship your orders. Each shipping method will be based according to the size and quantity of the items ordered.

4.What is the estimated delivery time?
We aim to ensure that you receive your order as quickly as possible. Once your order is successfully submitted, our warehouse processes your order the same business day. It is then picked, packed, and dispatched. Please note delivery times vary depending on your location and the possible courier screening that the package goes through. Our standard delivery times (2-5 business days) are estimates and may vary due to external factors outside of Goplus, and our courier's, control. These factors may include but are not limited to, extreme weather conditions and technical failures.

5.How do I cancel my order?
Please initiate a cancel request from your personal center. If the order has already been shipped out, we would request $17.6 as a recall fee for each package. Please refer to the Return Policy for additional information.

6.What if I don't receive my order?
Please contact the carrier to see if they have delivered the item to the right address. Meanwhile, we also recommend sending us your phone number so we can put a claim against the carrier to search for your package. Generally, the search result should take one week.

7.What if I have received a damaged order?
Please initiate a return request from your personal center and within 3 business days after receiving your package. Note any visible damages (scrapes, dents, etc.) or operationally damaged (the system will not work), take the digital photographs and provide Goplus with proof of the damage in detail as this will assist us in processing your order refund.

8.When can I expect a refund debited to my account once I return the item?
Once you are authorized to return an item back to us, please pay close attention to the return tracking number. Once the item is delivered to our warehouse, we will issue you the refund in 3-5 business days.

9.What is the warranty of my item?
All items come with a guarantee 3-month warranty from the date of purchase. We will cover any cost occurred due to item quality issue.

10. How do I return the item?
If you received any defective items, you can contact us for a full refund. Most of our products can be returned within 3 months of purchase provided they are in sellable condition with original packaging, tags and a receipt. When your purchase fails to meet your expectations provided they are in sensible condition (items in original packaging, manufacturer's tags attached, undamaged) we request that the shipping cost must be paid by you in order for Goplus to process your refund.

11.Is that possible for me to order replacement parts from you?
Normally we don't sell parts individually. If your order is under warranty, we will send replacement parts to you without any charge providing if we have the parts available. If your order has extended its warranty date, we advise you to order any additional parts or replacements from your local hardware store.
Note: We can only process orders purchased from goplusus.com

Free Shipping within US
24/7 Customer Service

Quality Guaranteed

30-Day Return Guarantee